– RHEA, the outdoor countertop designed by Elisa Ossino and fabricated with the new Terrazzo COMPAC High Performance Stone, has received great praise from professionals and specialized media.
– Renowned professionals from the industry have included the COMPAC stand in the 'top ten' of the fair, a space in which they have enjoyed a multisensory experience.
– The new colors of the Ice of Genesis quartz collection by Arik Levy have generated great expectation.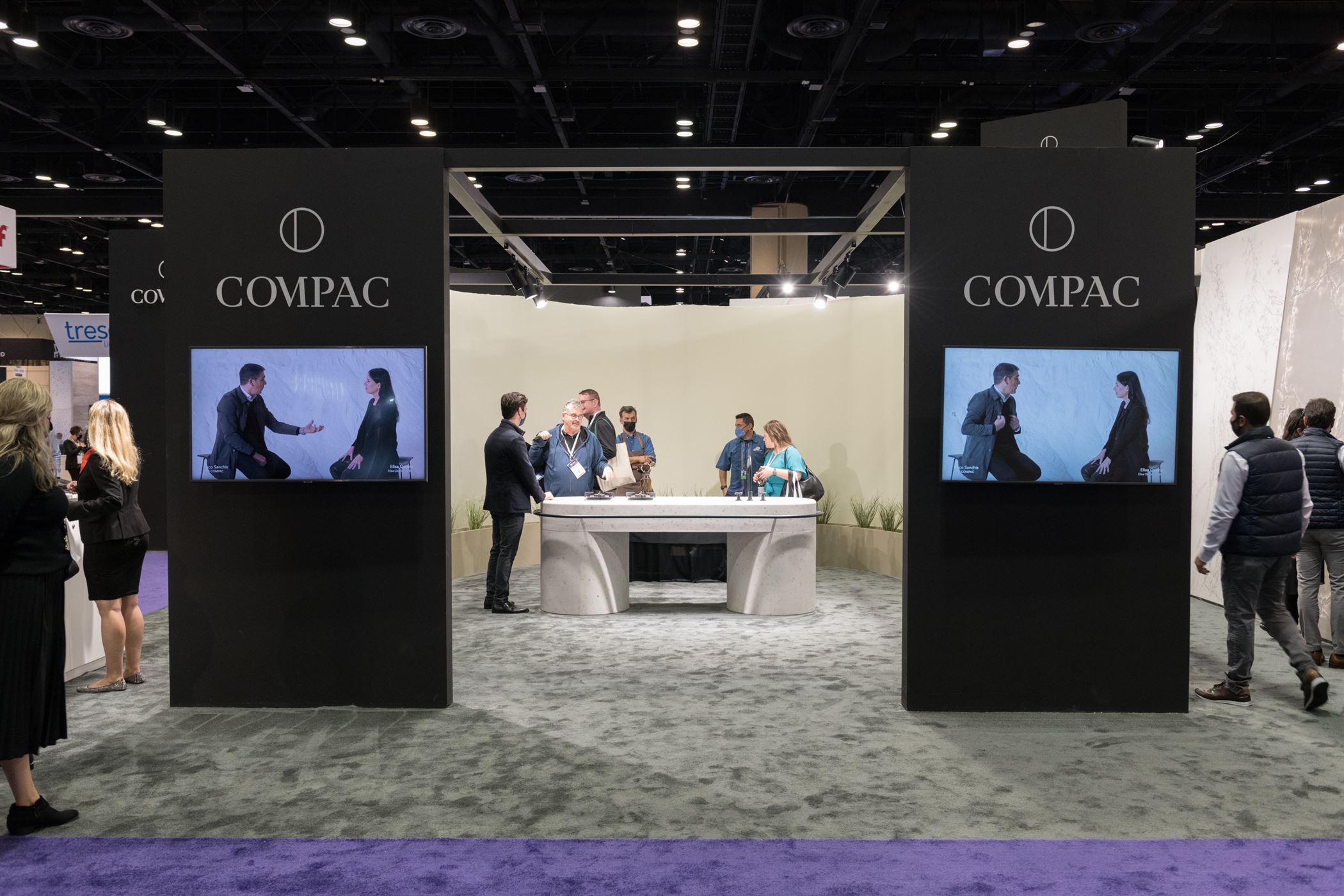 Orlando, 16 February 2022. After three days of frenetic activity, KBIS 2022, the most important event dedicated to the kitchen and bathroom industry, closed its doors on Thursday, February 10, with a very positive balance in its come back to the physical format.
At the fair, COMPAC has conquered the market of big-scale projects and unique designs through partnerships with the main actors in the industry. COMPAC's ongoing collaboration with artists such as Arik Levy, Elisa Ossino, among others, constitutes a differentiating value for the company and proof of this is that renowned industry professionals included the COMPAC stand, as well as some of the exhibits, in the 'top ten' of this edition of KBIS.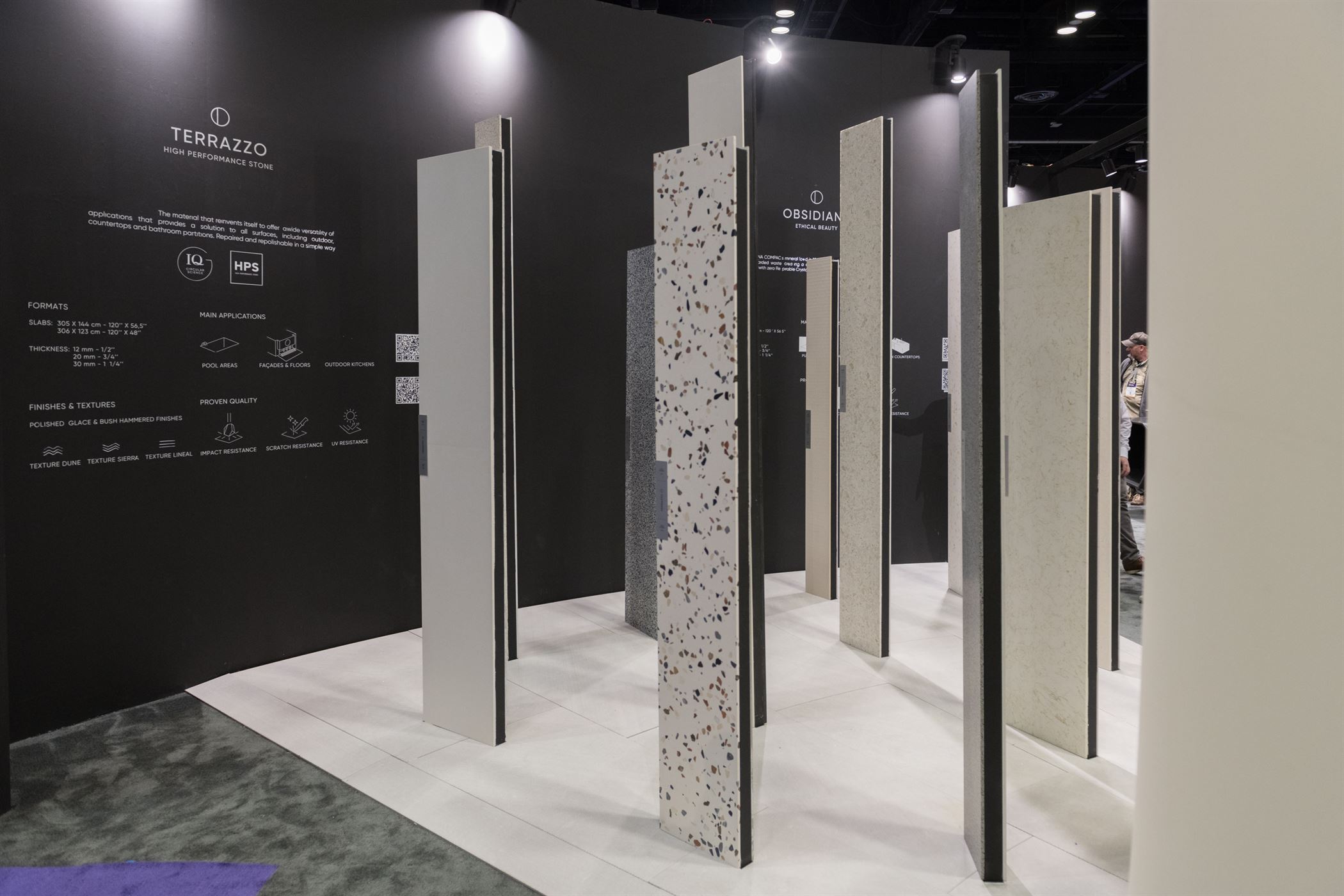 Materials forest by COMPAC
The innovative proposal of the stand, as well as the design and quality of the materials on display attracted a large number of visitors who were dazzled by the outdoor countertop that was the central piece of the exhibition. Designed by the renowned Italian interior designer Elisa Ossino, RHEA is fabricated with Terrazzo COMPAC High Performance Stone (HPS), a cutting-edge material, aimed at increasing the performance of traditional terrazzo, turning it into an all-terrain material, more resistant, suitable for all types of surfaces, both indoors and outdoors. Its strategic location allowed visitors to appreciate the texture and finish of the piece, achieved thanks to its production in a single block.
Terrazzo COMPAC has a wide range of possibilities, both in terms of designs, finishes and textures, as seen in the "forest" of surfaces that the company created for the occasion, thus achieving a multisensory experience capable of captivating the senses. In this same composition, Obsidiana COMPAC, the company's exclusive material made of 98% recycled glass, had also a prominent presence.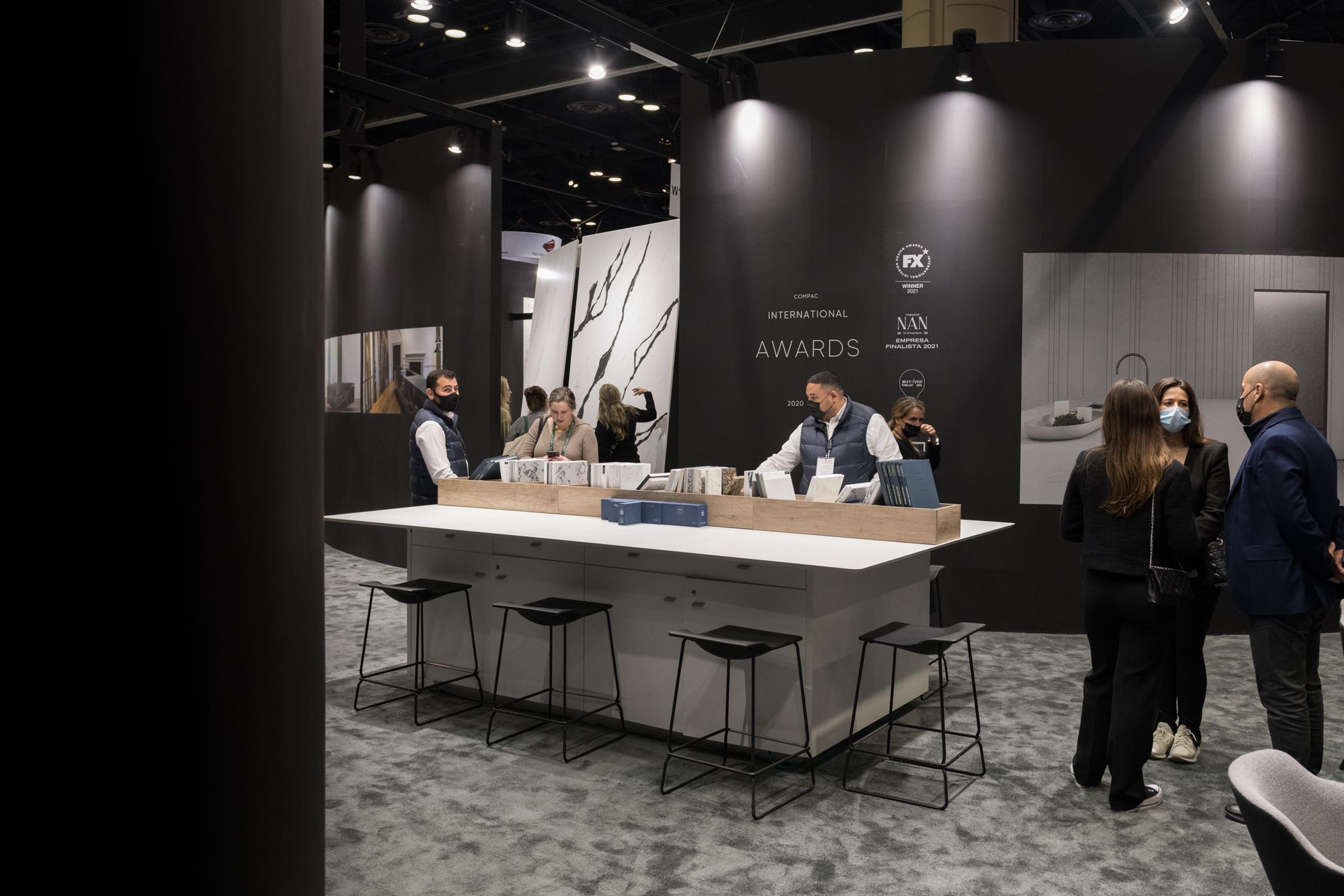 Moodboard with COMPAC materials
Undoubtedly, also great protagonists of this edition were the new designs of the ICE OF GENESIS quartz collection by Arik Levy. The new colors inspired by the four seasons, especially the ICE Viola, caused a great impact among professionals and the media. ICE Gold, ICE Green and ICE Ink displayed on large boards made it possible to visualize the ICE effect – which evokes the frozen lakes of the Arctic – for large-scale projects.